We've rolled out a series of exciting updates to the Purchases App for both Shopify and Bigcommerce stores.
1. Refer Friends
You can now give additional entries to people who refer friends that make a purchase on your store. When someone reaches the order completion page they will be able to copy and share their referral link with a friend, which will take them to your storefront. If that friend ends up making a purchase, the person who referred them will get additional entries.
In order for this feature to work, you need to:
- Add the Refer Friends action under Edit > Post-Entry: Social Actions
- Install the new code snippet we have provided under the Install tab on your campaign.
2. Show Entries in User Accounts
Previously you could only show users how many entries they earned once they reached the order completion page. You can now show users how many entries they have in your promotion when they login to their account through Shopify or Bigcommerce. We've added new installation code that you will need to add to your store to support this. When a user logs into their account on your store, our widget will appear showing them their entries, as well as any social actions you've added to your promotion that they can complete for additional entries.
3. Add Bonus Entries to All Products
Sometimes you may want to apply bonus entries to all products or certain products and it takes too long to do it one by one. You can now apply the same amount of entries to all products, or specific products in your search query.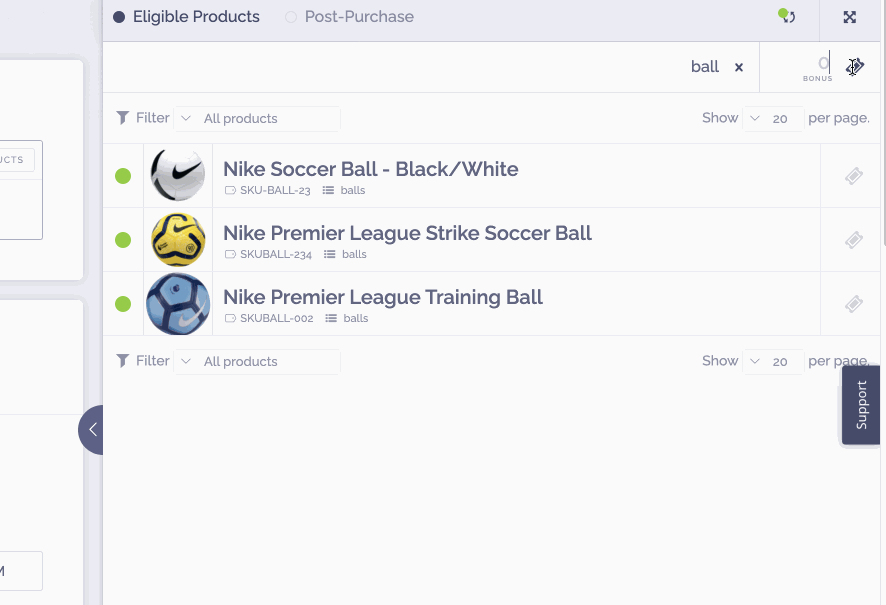 4. Sort products
You can now sort your products by All Products, Selected Products, or Unselected products. This makes it easier to quickly see what products you have selected to qualify for your promotion instead of having to scroll through pages of products.